Moisture Curing Polyurethane Adhesive, Model VT-2245-2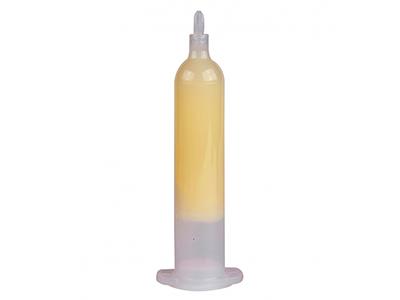 Products
VT-2245-2 moisture curing polyurethane adhesive is a reactive adhesive whose basic reactant is polyurethane prepolymer. Users can immediately continue to process products after dispensing the adhesive and curing via moisture. The cured adhesive features a high impact resistance. After curing, operators can also remove the adhesive through mechanical methods, then cure it again.
The buff VT-2245-2 adhesive bonds a variety of materials, including metal, plastic and glass. It is primarily used to bond and seal handheld device structures, such as cellphone, laptop, battery, and touch screen frames.
Parameters
| | | | | | | | | | |
| --- | --- | --- | --- | --- | --- | --- | --- | --- | --- |
| Color | Solid content | Opening time | Temperature range | Smell | Density | Viscosity | Warm-up time and temperature | Gap fill | Package |
| Buff | 100% | 2~4(min) | 90~110 | Light | 1.10 ± 0.05 (g/cm3) | 4,000 ± 1,000(mPa.s) | 100 ℃ for 20-30 min | 0.127mm | Injector 30ml |
Operation
Pre-cleaning: The base materials must be clean, dry and free from oil.
Using: You can use the VT-2245 hot melt glue gun or injection hot melt machine to apply the melting adhesive. If there is a long pause during usage, a temperature reduction of the melting adhesive is necessary because long exposure to high temperatures reduces the adhesive's viscosity.
Curing: VT-2245 adhesive is a moisture curing hot melt adhesive, and the adhesive will be fully cured in as little as 1 to 5 days. The completely cured adhesive has a high impact resistance.
Removing: The solidified glue will be removed only through the use of mechanical methods. We recommend completely cleaning equipment before curing, and if necessary, take the equipment apart in order to eliminate any previous solidified adhesive.
Storage
The adhesive should be stored away from heat sources, frost and moisture, and remain in a cool, dark and dry environment.
The best storage temperature is 5~25℃ and the quality guarantee period is 6 months if the rubber tube remains unopened and sealed.
Tensile test
| | | | | | | |
| --- | --- | --- | --- | --- | --- | --- |
| Lateral tensile strength(Mpa) | 10min | 1h | 2h | 3h | Impact strength (mj) | 10min |
| PC/30%GF+Ink glass | 0.71 | 1.54 | 3 | 6.77 | PC/30%GF+ Tempered Ink glass | 315 |
| PC/30%GF+Ink glass | 0.62 | 1.48 | 2.1 | 6.5 | SS301+ Tempered Ink glass | 90 |